I'm picturing an updated meme of Kevin Durant looking at Westbrook saying, "you the real MVP." Wouldn't that be rich?
While Durant won MVP for the 2013-2014 season, and shortly thereafter, decided it was finally time to get out Oklahoma and leave behind the beautiful bromance, it is Russell Westbrook's year to win MVP.
As the race for NBA MVP continues, my bets, but mostly hopes are on Westbrook.
Westbrook now leads the league and falls into the historic ranks of triple-doubles with only Oscar Robertson ('63-'64 MVP) and Wilt Chamberlain (4-time MVP). He is averaging triple-doubles. AVERAGING.
My average day consists of three cups of coffee, six episodes of "Shameless," and two bills that should have been paid the week before, Westbrook's average day is far more impressive; 30.9 PPG, 10.1 APG, 10.4 RPG.
Another wonderful and necessary measurement of a players performance is the Player Efficiency Rating. The PER basically attempts to combine all the contributions of a player, by means of a specific formula, into one number. Westbrook's number: 29.19. The highest PER in the league as of now.
My face when people argue that numbers do not matter in the MVP race: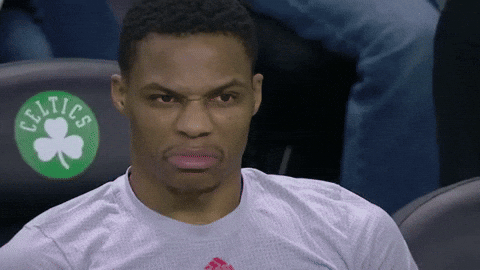 Photo found here
How do you define "most valuable player?" This guy has got to have the strongest back in the league. If you did not get the metaphor, I'll further enlighten your inquiring-mind; this player carries the team on his back.
Some people may say he's playing "hero ball" but Westbrook finds a need and takes care of it. With this point, some people try to argue for Harden. "Fear the Beard," they say, but I just believe that the Rockets could fare fine without Harden. OKC would be devastated without Westbrook. That shows the value of this future MVP. Westbrook and Harden are neck-and-neck, but numbers matter, and Westbrook's got better numbers.
While the race is lead by two beasts, honorable mentions include Isaiah Thomas, Lebron James (isn't he always mentioned?), and Kawhi Leonard. Good luck to all these players but I really hope to put some money where my mouth is and whichever glossy wood-floor Westbrook is playing on.
Feature image found here